Gives valuable insight to insurers on the way how to build and maintain
relation with customers for the improved loss ratio.
Research base on large dataset, and with vigorous scientific statistic analysis applied
Explores the correlations and causations between the driver's activities and their quality of driving during the course of one year
What it really means to have the engaged customer, and what might be the monetary value of such user base
Valuable insight in a short and informative format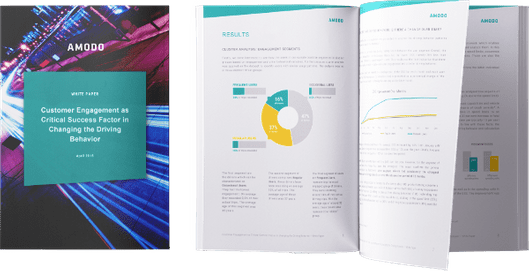 16 pages
5 graphics
One year of data
One million journeys analysed
This research reveals the way how insurers can leverage on engaged users to improve their loss ratio
Customer engagement is not simply a good user experience on a particular digital channel. Even though this creates an opportunity for creating one, it is simply not enough.
Whoever runs the customer relationship in the mobility project, especially in insurance, should consider creating a comprehensive customer engagement program in order to get the most from the usage based program.
It includes precise release planning, and appropriate mechanisms in order to assure short-term, mid-term and long-term engagement. Also, it has to be locally relevant to achieve market adoption and ensure results.
Amodo provides a leading customer engagement suite for insurers. Mechanisms are built to ensure a long lasting and sustainable relationship for both parties.
DOWNLOAD IT FREE
Customer Engagement as the Critical Success Factor in Changing the Driving Behavior